Create A Food Drive
Create a food drive to help feed hungry neighbors! You can use events like birthdays, anniversaries and holidays as fundraising opportunities. Simply direct friends and family to our website where they can donate money in honor the event or holiday. Remind them that for every dollar they donate, $3 dollars worth of food goes to residents in Indian River County in need of food assistance. Our organization is 100% volunteer based!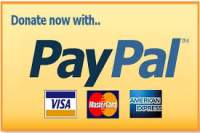 Birthday
Happy Birthday! Why not celebrate your life by helping those around you in need of food assistance. Instead of buying you more stuff, your family and friends can donate money to the Food Pantry of Indian River County instead. Share the love!

Special Occasions
Special occasions are a great opportunities for virtual food drives. Add meaning to important events like Graduations, Bar/Bat Mitzvahs, Confirmations, Weddings and Anniversaries by raising money to help feed hungry families in Indian River County.

Holidays
You and your friends can make a difference in your community. Give money & food to feed the hungry as holiday gifts to each other. Avoid the crowds and feed a hungry family

Wedding
Instead of a gift registry you can ask friends and family to donate money to a virtual food drive in honor of your upcoming wedding. It's a great way to have a positive impact on your
Dinner Parties
Throw a dinner party with friends and share your passion for supporting the Food Pantry of Indian River. Instead of bringing a host or hostess gift ask your friends to make a donation for your Virtual Food Drive.

Other Ideas
Running a marathon? Want to honor a friend of family member? Want to build community in your neighborhood? Start a virtual food drive and help feed families in need of food assistance right in your community.